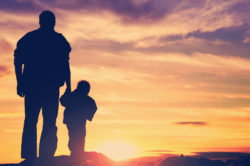 Hosiah's been shot! Sister Marie yelled into the phone. Who, what? I tried to shake myself awake, what happened? Sister Marie could barely speak. Hosiah been shot. He was coming home from the boys club. Immediately my mind flashed to the self defense class i got him signed up for. Ok im on my way. I took down where the paramedics took him and got dressed. I phoned my boy and told him what happened. Before I could finish, he said im on my way.
Driving to the hospital my mind flashed back to the time we first met. He was sitting on a stoop in the cold. All i wanted to do was go home, but god let me to him. I said a small prayer to watch over him and heal his little body. Hold on hosiah, daddy's coming. Wait did i just say daddy? I broke into a big smile. Yes i did. Sounds nice doesn't it?
My friend and his wife met me at the hospital. After thanking them for coming, they asked if i knew what had happened. I told him you know as much as I do. After finding out where his room was located, we made the trek there. My friend's wife who is a nurse said no matter what you see, keep a straight face. He will need all help he can get. I stood at the door to his room, took a deep breath and walked in.
I was not prepared for what i saw.
Hosiah was hooked up to every type of medical equipment imaginable. I felt my heart drop and my legs must have buckled because my friend grabbed me. He whispered be strong. For hosiah.
Sister Marie was speaking to the doctor and when she finished she came over and said since he has no family when he recovers he will have to go into the system. Unless someone steps up.
Looking down at that little boy, i finally knew what my purpose in life was. Why one year ago God had put him into my life.
I simply said, i will.
Epilogue
Its been 6 months since hosiah was shot. He is on the was to recovery. I've been busy finding a new house for the two of us. Ive been going through the procedures to bring hosiah home.
As my son.
Merry Christmas
(c)aa2017
(Visited 1 time, 1 visit today)