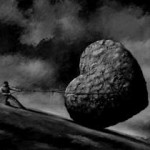 Heart to Heart
Baby this road has been tough and long.
The stretch of road we're currently traveling upon has a fork up the road.
It goes off in two different destinations and lives.
We've searched for an alternative route but there is only a choice we must make today.
Do you love me?
I have no doubt but several things have been contrary to it's consistency.
I too have not always held the banner as I should.
So do we take a path alone or hand in hand together my queen?
I will respect it regardless.
We need a heart to heart…..
(Visited 1 time, 1 visit today)