I KNOW WHY THE CAGED ANGEL DOESN'T FLY….
**NOW SHOWING**
EVERY EVENING IN MY DARKEST HOUR WHEN I'M ALONE PROTECTING MY OWN INSECURITIES,
I GET SURROUNDED BY THIS MADNESS AS MY THOUGHTS CLOSE IN ON MY REFLECTION & VULNERABILITIES…
4 MAN MADE EMOTIONS NAME HATE~PRIDE~LIES AND THE TRUTH,
I TOLD THE UNIVERSE I WAS HAPPY BUT SOMEBODY WANTED SOME MUTHA FUKIN PROOF….
I FELL HARD AS HELL FROM THE HEAVENS WITH MY WINGS STILL VERY MUCH INTACT,
CAGED BY THE HANDS THAT WAS LOVING ME BUT THEY JUST DIDN'T KNOW HOW TO LOVE ME RIGHT BACK…
NO SURRENDER I WAS CAPTURED  WITH NO MAJOR WARNING,
I KNEW THEY WOULD COME FOR ME BECAUSE  MY WINGS ENTICED THEIR NATURAL HABITAT OF NEEDING SOMETHING WITHOUT EVEN WANTING…
HATE ~PRIDE~LIES AND THE TRUTH
I TOLD THE UNIVERSE I LOVED HIM BUT SOMEBODY NEEDED SOME FUKIN PROOF….
GUARDED FOR AMUSEMENT AND ALL OF MY PRETTY THINGS,
IF THESE 4 EMOTIONS KNEW WHAT LOVE WAS THEN THEY WOULD KNOW A SISTA CAN'T FLY   WITH NO BROKEN WINGS….
SO NOW I STARE OUT INTO THE ABYSS OF THE EYES OF THE BEHOLDER,
TRYING TO DISTRACT THE FOUR OF THEM BEFORE MY HEART GETS ANY COLDER…..
HATE~PRIDE~LIES AND THE TRUTH
I TOLD THE UNIVERSE I WAS LOYAL BUT HE BLEW OFF MY MUTHAFUKIN PROOF…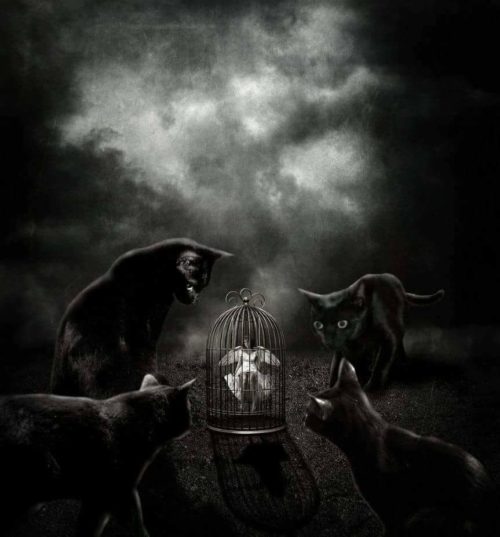 (Visited 1 time, 1 visit today)