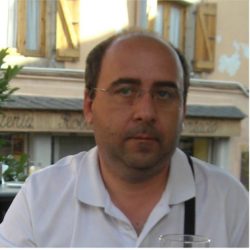 Kisses that never will exist
because it can't be,
cause you don't know who I am
or at least what I feel.
Songs that we won't share
although I close my eyes
and can evoke your face.
I ban myself to love you
and I deceive myself,
I deny the heart's laws
because I have no choice.
I fall by an abyss,
deep, cold, gray …
A shortcut in the Purgatory
of cold sheets,
worn photographs,
nonexistent memories.
Abandoned to ostracism,
sliding toward the ridiculousness,
I'm so down,
I'm afraid of not having bottomed,
I fear to fall forever.
Losing courage,
forgetting the dignity,
smeared on my vomit
I have no more tears,
I feel nothing but grief.
There is no greater misery
than not having you,
there's no more painful hunger
than doesn't feed myself
from your lips of goddess.
© Lluís Carrera 08/12/2014
(Visited 3 time, 1 visit today)