The light is dim
Yet bright is the pen
Shimmering in all glory
As the story unfolds at the sound of the click.
The wic is in the tip
Brass lips anxious to kiss
The crevices of this blank paper
As always, but yet the anxiousness in my wrist
Still resides as if this was the first time.
This night…the moonlight shall cover me
As I uncover the verses that form internally.
Words and phrases will cover these blank pages
To become building blocks of verses, sonnets, poems
That's the evolution of poetry
For its potency is known to mesmerize
Even the narrowest of minds
As they become wide open, engulfing into a new state of being.
Seeing these philosophies fly across the room
Flashing as if it was a new form of photography
It's as if this artform became paparazzi
Capturing random forms of light
So we can present through books, magazines,
And yes, even here on this mic.
So arise, my beloved
Rise as the Phoenix did, being born from
The ashes of the past.
I've been tasked to dispatch
To the masses with this testimony
To present the evidence to the jury
No matter how I'm judged
For I was convicted of assault and battery
Through this gift I was called for mastery
Of this life through sentence.
Constantly having stanzas in my vision
As if my pupils became a pupil of my mind,
Who serves as scribe, even with no sleep at night.
So the light is dim
Yet bright is the pen
Waltzing across faded lines to bleed the rhymes
That reside within
As it began…when silence became my first best friend.
So I thank Him…again and again
As the soft rolling of brainwaves grace my ear…
Tonight, slumber will be missed…
But for now…I write.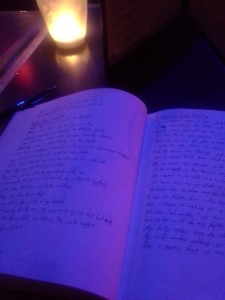 (Visited 1 time, 1 visit today)