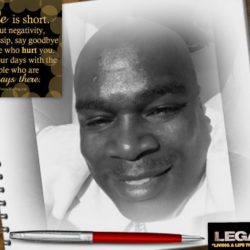 LEGACY: WHEN MY WORK DOWN HERE IS DONE
When your work down here is done
what will be your legacy to look back on
are you still living in unforgiveness in your soul?
did you pray for each other in the spirit of love?
Did you allow your eyes to be the sight for the blind?
did your voice speak through the hills to the mountains?
did you water a life until it bloom like a beautiful red rose?
did you wipe weeping eyes and help blow a nasty nose?
When my work down here is done
I pray that I cause someone to smile and to believe
That the sincerity of my heart spoke to you loud
and you understood the profoundness of my sound
That voice that said, " men treat your woman right"
and women, " learn how to mend more than scream"
allow your hearts to be humble towards each other
as Christ the Master-Builder become our soul's lover
Broken ~ Our men dying in the streets by quick finger cops
Shattered ~ Crying mothers voices is reduced to a sob
Misunderstood ~ Only when one of theirs is slain
Yet there is a no joy in knowing the murdered family's pain
Think about how you want your message to be received
this is breaking your heart to see another Black man bleed
doubt is fighting your faith every round ~ toe to toe
but Goodness and Mercy is keeping you afloat
When my work down here is done
I pray that my hands carried some of your burdens
that my feet walked with you that extra mile
seeing you cry out for justice as you try to smile
Don't you dare wink at this sin of brutality
remember every ounce of blood that was shed in these streets
there is a war going on that you better believe
in the midst of it all say a silent prayer for me
Who told these public servants we hate them?
to the point where we cannot even pull out our wallet
It use to be the Ballot or the Bullet
please just "Give me liberty or give me Death"
Lift every voice and sing
lift every voice like a trumpet in Zion
I will be heard now for the generations to come
the devil is a liar if my mother will lose her baby son
Hold your heads up Black men of faith
go get your young sons and teach them their place
your legacy is not the war in the streets
it's you being a father to the ones who has no feet (selah)
Newsflash ~ My life always mattered
Billboard ~ I have a divine purpose
Poster ~ Be builders of men
Life ~ Your character will take you further than your talent
(Visited 4 time, 1 visit today)