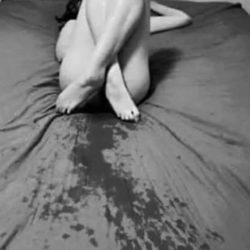 NO SUBSTITUTES PT. I
floetry collab by Pettie Crocker & MaNGOD
~Pettie Crocker~
Well, my dude is back
But he is at work
And I miss your kisses
And the way you make me squirt
I miss your caress
I miss your dick
I am prone to laying
So you can kiss my clit
Mash your face in it
Get your face glazed in it
I want to squeeze your tongue
With my walls
And then have you waist deep in it
Can you feel my stomach trembling?
Not to mention this
That has been a long time since
Anyone has hit it like this.
Am I tight enough?
Did you miss my fucks?
I know you have two or three others.
But you ended up here…Why, my dear?
Mmmmm, never mind
My orgasm is near
Oooooo, long stroke it
And smack my ass
I am ready to feel you
Empty into the small of my back
I love that warm sticky, protein
That you leave upon me
You better hurry now
Because he gets home around three
I need to wash up
And get the smell out of here
I hope to see you soon
It has been a real thrill.
~MaNGOD~
I told You I don't do a Woman into another Man but that sex thang… As addic(k)tive as Brown Sugar, Skag, Smack, keeps Me cumming back for more smacks of that azz, more snacks between Your thighs but alas…
Your boy's back for You and I'm no substitute when it comes to You, I don't want to be the death of You because if I go up in You I might have to kill dude for putting together 2+2 and laying hands on You
But damn, I have this sweet tooth for some of You, want desperately to go down on You, quench My thirst then bust this nut in You, have a chimera effect on Your body chemicals, My genotype dominating his zygotes in You, cause You to be resentful of him when I'm not with You
That pussy's mine and You know this Boo, he can't prime it like I do and the punani wants to accept no substitutes
I hate the grin on his face when he comes home to You, sheets drenched and the idiot thinks it's preemptive thoughts about him when it was phone play, foreplay, phone sex all day and just the sound of My voice got You feeling sumkindaway
Three is nearing, here, swallow this protein so he can't scent what We've been doing but make a choice soon Baby… I'm not down for much more of this cheating
© Shekinah's Papyrus 2017
(Visited 3 time, 1 visit today)