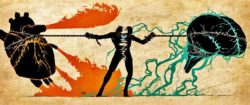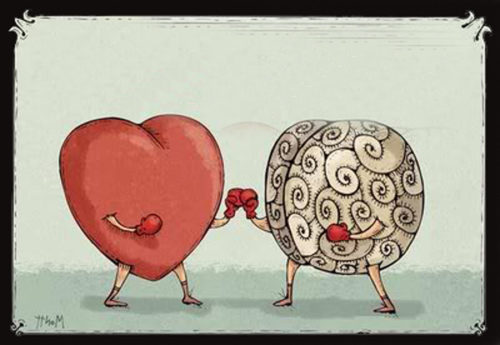 I want to move on
Act like nothing ever happened
How I wish I never saw what I saw
If I could just rewind time….
Now I have an internal battle going on
Heart v. Heard
12 rounds…
Going Head to Heart
ROUND 1
" I just want to be loved" is what my Heart is crying
" Girl, you to soft! Make him pay for what he did!" screams my Head
ROUND 2
" But I love him and none of this makes sense"
"Who cares about making sense, do you need to look at what he did again?"
ROUND 3
"He said he was sorry and won't do it again."
"How do you know what he says is true?"
ROUND 4
"This is all way too much. I just want to love him and be loved."
"What has he done to prove he won't hurt you again?"
ROUND 5
"He said he was sorry and loves me. Didn't you see the sorrow and regret  in his eyes?"
" That's what they all say! Stop being so naïve! Haven't we seen this all before?'
ROUND 6
""But his actions show me that he cares."
"Yeah, all but that one….what else is there to reveal?"
ROUND 7
"He's not that kind of man. He is different from the rest."
"Or so it seems….."
ROUND 8
"Why won't you just let me be happy!"
"Happy! LOL, is this happiness? Without me who would protect you?"
ROUND 9
"I can take care of myself, of us"
"We let you lead before and where did it get us?'
ROUND 10
……. silence
" Exactly!! Look! Look at all the scars from that! They are there forever!"
ROUND 11
" I just want to be loved, not taken advantage of or hurt physically, mentality, or emotionally."
"Then let me lead, I'll make sure you, we, will never be hurt again"
ROUND 12
"No, I won't let you take control. I love him and he loves me. You will take us away from him."
"And I won't let you! You , your bleeding loving caring self always leads us to destruction! Pain, agony, sorrow, and disappointment!"
DING DING DING
The Fight is over.
Time to tally up the points
And the decision in Heart v. Head is……….
DRAW
Rematch scheduled for next moment of despondency
(Visited 1 time, 1 visit today)