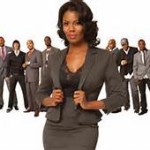 She was a woman of multifaceted talents. She ran her business better than some of the most proficient men. She was beauty, grace and desire personified. All these attributes and she knew it. Confidence was an understatement she was beyond. As her attitude was the first thing that entered any room, her appeal was a close second. But today would be a bit different….today she would approach a room of equally intelligent and attractive men.  Men who had already determined how she operated and knew how to counter her tactics.
However, one was the one she couldn't resist. Everything he asked she answered, everything he offered she accepted, and everything about him she wanted. It began as a dance of egos…she rocked and rolled with all of his accomplishments as she lamented on about her own. As she shared her single most impressive accolade, the room fell silent and all the men studied their prospectuses…all but one, he…he studied her. No expression and no words, however, she read him well…
Just before she gathered her proposal, she spoke "Good day gentlemen. It appears that there is a conflict of interest. Enjoy your day, I'll be leaving now."
He placed his hand on her shoulder and gazed into her eyes. He smiled seductively as he realized they were familiar strangers whose souls had been woven over time through various phone conversations and emails. They had shared the innermost elements of self and were so deeply inside of each others being that they could not see the outward façade.  And in this moment,  before they fell in love with one another, in this boardroom …
She sacrificed her power, her pride and her merger for an emotion she finally had the opportunity to bask in…
First pride was up held and then it was annihilated….  then the two fell in love.
(Visited 1 time, 1 visit today)