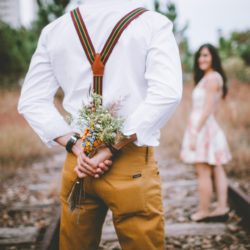 Getting my Feet Wet; then I dived in… (LOVE)
Written by Elle McLin
First love cannot compare to true love
When in your first, you feel the beginning of love's high
The cloud-walk feeling
The adrenaline drilling
He could do no wrong,
And yet he did… broke/smashed/demolished my heart and its remains
The feeling that love would never be the same
And yet, I was right
But wrong at the same time
True love came my way,
First love was getting my feet wet
And True love was the moment I dived in heart first
First love had me quite smitten
Daydreaming to his left memories
Smothering myself in thoughts of him
Scribbling and jotting my heart's declarations
Oh that high, was unlike anything I ever known
And yet again, I was wrong
True love wasn't an initial buzz
But that lingering feeling of utopia always remains
Those butterflies seem to appear and reappear at any given moment
Fluttering wings still present in the pit of my belly
That adoring queasy feeling when reminiscent of his love
True love is quite forgiving… and will give you time for healing
True love is breathing in each other
Exhaling in tune
Heart tempos are twinned
Sensorial have been linked
If he hurts, so do I
He stubs a toe
And I cry
First love asks the question "why"
True love declares "Until the day I die"
Seems first love can sometimes be one and the same
In sync and in accordance to what is true love…
Imagine getting it right the first time
this complete feeling of sublime
That would blow your mind
Age like fine wine
Both bitter and sweet
A gift from God that should be enjoyed
Cherished/valued/ and appreciated fully
Love…
Not at all made by man
No one should try to understand it
But to live in it
To breathe and release its vapors
Spread it
Love… in its untainted form,
Never seems to lose its luster
There is a light in love
Notice how one refers to someone in love… as glowing
It's energy… God's energy
And nothing is as pure as LOVE!
Whether you get a taste of it from your first
Leaving you longing for its return,
Or a lasting dose from your "true" …
It will always be the highest of your highs
The endorphin that makes you feel you can fly,
And believe me… in "true love" you absolutely can!
© February 13, 2013 All Rights Reserved.
(Visited 1 time, 1 visit today)