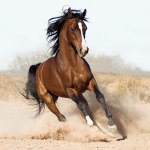 She stands still in the heat of the day,
as her hair is brushed an stroked until it shines,
as it flows in the wind.
Her teeth are clean, and her shoes on right.
Her legs of steel showing every muscle that is ready to run in whatever race she is presented with.
A swift gentle rub to her cheek letting her know she is still as sweet as the wind that blows across her face.
She gives a brief head nod back to the giver as he mounts her,
she stands erect taken all that embodies her,
as she feels him slide into her saddle.
She is relaxed an knows that as she relinquishes her stand to him,
he will guide them into victory seen an unseen,
she loves her rider and he her.
As they become one for every race.
2011 © Voncia Lesettajo Nichols
(Visited 1 time, 1 visit today)