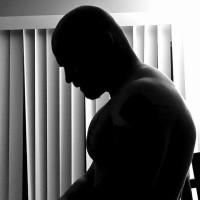 I believe that there is
a certain sanctity
to this thing we do.
Despite all the broken
and inflated egos,
sidled and over-zealous libidos…
the unbridled hatred,
and unrequited love…
Or maybe BECAUSE of all this,
sacred psalms
sometimes emerge.
Not an everyday occurance
in common conversation,
and so…
we congregate
each week in communion
expressly to extract
this type union,
this over-lap of
the heart and mind.
You know, the kind…
You can hear it in
a newborn's first fit of laughter;
it feels like afterglow
while in your lover's arms;
its that daft glint
of the purest hatred shown
in a scorned woman's eyes;
It tastes like any lips
other than your own.
We poets dare attempt define
these ephemeral elements;
they are seminal
to assessing sentience
and therefore as sacrosanct
as the most pious of prayers.
Except, if this is religion,
then it must be
the very opposite to
a vow of silence.
In fact, one is EXPECTED
to speak-out here,
ENCOURAGED to
shout violently
if that better suites you.
Some of our most devout
even eschew
the lowly microphone,
fearing it may weaken or
taint their benedictions!
And then there's some that choose whisper.
And you may to.
Especially If you're new.
This whole thing
can take a little
getting used to.
Abuse of the honor
and priviledge of giving testimony
before our sect is rare, as it IS
a hallowed gathering…
most take care to arrive with
something deeper in mind
than simple self-indulgence.
Some come because
they feel a calling to.
Others, in order
to pay tithes.
A small few
arrive again as back-sliders,
in hopes they can recoup
that spark-divine.
An enlightened lot, mine,
each here to be honed
gainst the next
blessed cenobite
of this,
The Church of
the Wholey-Human Condition.
And as such,
I wouldn't want
to knowingly wax pedantic.
Too much
semantic attention to detail
is an aside.
I won't expect you, my choir,
will abide blasphemy,
especially whilst the pulpit is mine.
Oh, sinner, I.
However, in times recent,
I find myself frequently offended
by so many self-serving sermons
served as I sit
amid these pews…
Views neither introspect
nor intimate.
Long lists
of transgressions with
no redemptive sentiment
or quality,
professed without apology,
and purportedly lived
without conscience.
Or am I all too conscious
of my place here in this,
our chantry?
Perhaps granting it
too grand a schema?
As anathema for me
as it is to believe it,
perhaps it is…
just entertainment.
Mere arrangements
of playful limerick,
lyric and verse,
to amuse and to mollify…
But devoid of all higher meaning.
Afterall, no gleaming halo hangs
conspicuously above our heads
to signify our deific endowment.
No seas part for our passing,
nor bushes burn immaculate
and untouched
just to quote us.
Who am I to lift us on so high?
Yet…
Are we not supposedly
somehow gifted?
Tweaked on a sublime level
to sift through the mundane
and reveal the extraordinary
hiding in the norm?
I don't know…
Maybe its just me
reading piety into it,
but a shout of "Spit, Poet!"
sounds suspiciously
like a cry of "Hallelujah!"
Denounce its divine nature
all you like,
there is no denying
poetry's power to motivate
and inspire souls to MOVE.
And so I must ask of you,
dear Poets,
has our soulful art of prayer
lost its romance?
Not romance
as between two lovers.
No, more so,
the meaningful relation
of one's hidden heart
to that another.
Tragic or heroic tales
of pitfalls perservered,
put through pen to pad
and passed on lips
to listener's ears.
Perhaps a simple lesson learned
or a simpler sympathetic word
to let those who need it know
there is a like-minded,
like-hearted
shoulder here
to lean on.
The demons of the every-man
agonize in excorcism,
when purged by empathy.
Thusly, I believe
this ability was MEANT
to be used
in THIS exacting manner,
in fact, that it is
our destiny to manifest
the stigmata of the psyche
for souls that just can't bear
to do so.
We…
the Emotive Martyrs.
Run through with a spear of quill…
Adorned in a simple shroud
of parchment to collect
our life's blood…
Cadence, our crown of thorns.
There IS a salvation of sorts.
Here…
between the torn and tattered pages
of this, my hymnal.
Part record
of all the sins I've committed,
part symbol
of all those I've atoned.
Now, to me, a sacred tome.
This lone voice
singing psalms,
putting pen and pad together
in place of
pressing palms.
This… my homily.
Now, verily I say unto thee,
pray WITH me, Poets!
Pray here,
amongst the faithful,
and those that yearn
to be counted among them.
Pray that these weary hearts
be freed from doubt
or just once again
filled with wonder!
Pray that you find wisdom
that you may feed another's
hunger from your abundance!
May your words give asylum
to the hunted,
the hounded…
Hold out a helpful hand
to the wayward-bound soul.
Your goal should be to
surmount heights unknown
and explore valleys deep…
We here are given power
to rally the spirit!
So, RALLY SPIRITS!
And reap righteousness!
Seek enlightenment!
Pray, Poet! Pray over anything!
Preach, Poet, about everything!
But do so
only in earnest…
For here,
you stand
on HOLY GROUND!
(Visited 1 time, 1 visit today)