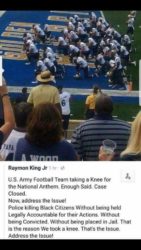 UNTITLED IN PROTEST
floetry by MaNGOD
Dear White People, "Minorities" bear Me out… White people you are correct; correct this protest is about the flag, the anthem, the vets, and the underlying results of inequality, lying and just being plain ole American racists.
What intellectually based concept is there for hating the thin layer of one's skin? Have you ever experienced solitary confinement and it's effect on the brain? Why must I and My skin be collectively subjected to this century out, century in, what logic to the hate, is this the true nature of your DNA or an evil game you play? What made you so afraid and hateful you'd actually feed false info to your own people in order to what… stay in power and therefore control?
What are you afraid of, a country/world filled with love for everyone rather than hate and division?
You Irish with your dark elements, and you dimwitted Italians forget or refuse to accept you and you converted Jews weren't always considered Caucasians. Fact of the matter is before the 1970's you had a darker hue who were Caucasians, the Trinidadian, yet a change of status is all that it took to forget prior treatment? Caucus to suit their purpose, now you thumb your Black roots at us, shame on you or do you lack half a brain?!
Do you define prejudice "jealous of us" as a synonym for racist? Can just one of you tell us logically… What's all the fuss about us, is it possibly your deficiency and a sleeping with animals psychosis?
Aaron Rodgers couldn't get you to link arms against injustice while vets roam your streets mentally and physically homeless, Orlando a year ago and now Las Vegas, My heartfelt condolences but these are your seed and they take you out in bunches, call it the most horrendous as if 911 wasn't all your fault. Aaron I find Wisconsin no surprise, Trump won their vote after all. He can tell them he's the worst treated president and they'll dismiss the 4 that were murdered… And the Black one. They're really showing they're being dumbed down in the heartland. One day too late you'll see we're all getting played in the U.S.of A so I protest the flag, anthem and vets of this mess and you puppets.
Ever Sympathetic to the Blind.
MaNGOD
© Black Chalk 2017
(Visited 1 time, 1 visit today)