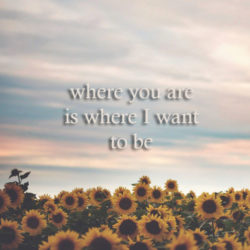 Lips sweep your collarbone
hand rests upon your nape
pull my fingers through the
fragrant down that's left
of your fresh fade
I have waited
I've imagined
I have dreamed
a whole nights dream
I have wondered
I have watched you
hoped that you are
what you seem
So I made this trip to nowhere
barely blipping on a map
Left behind my fear of flying
just to get to where you're at
Just to get to where you are
Just to breathe the air you breathe
Just to hear the west winds howl
rustle those East Texas trees.
Just to see how your mouth curves
when you smile so big and wide
Photos do not do one justice
there's so much truth that they hide
Just to feel the soft and roughness
of your full hard-working hands
rest my head upon your chest
just to hear your beats and breaths
Just to know that you're alive
Real; and not some fantasy
I am much too frail to fall
for someone that can't catch me
I am tired of the routine
the same person, different face
And in you I see the new
yet you're so far from my space
So I made this trip to nowhere
close to somewhere I once knew
A place that feels like home
one that I've never been to,
but its you..
.
It Is You… you're my sky and moon and stars
Took a thousand miles and minutes
but I got to
where you are..
(Visited 1 time, 1 visit today)