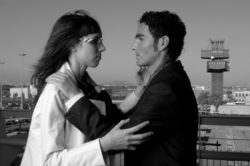 I feel disoriented, lost,
I do not know what to say or do,
nor describing how I feel
within my hell.
While this happens I lose health,
I fear my words,
not by what they say
but for what they mean.
I go to sleep thinking
that's impossible to love you
more than I already do
to wake up and realize
how I'm wrong.
I curse the time
which doesn't give me any choice
with its inexorable walking,
I curse space
that compels me to wake up alone,
lost between cold sheets.
Everything I read sounds like you,
what I think revolves around you,
having to say goodbye
without saying hello,
loving you without any future,
wanting a mouth which I'll never taste.
I do not want to say goodbye, I don't,
I am not satisfied to see you go,
I refuse to give back
the disintegration of being.
I just want to find a space,
real or unreal, no matter,
where you and I meet,
where we are one,
an eternal utopia
to live eternally.
© Luis Carrera 07/02/2015
(Visited 1 time, 1 visit today)