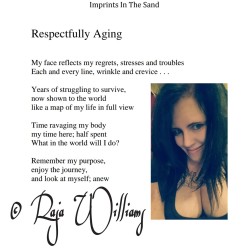 My face reflects my regrets, stresses and troubles
Each and every line, wrinkle and crevice . . .

Years of struggling to survive,
now shown to the world
like a map of my life in full view
Time ravaging my body
my time here; half spent
What in the world will I do?
Remember my purpose,
enjoy the journey,
and look at myself; anew
© Raja Williams
Excerpt from the book "Imprints In The Sand"
Visit Author Page At:
http://www.ctupublishinggroup.com/raja-williams-.html
💥 Free to Read on Kindle Unlimited 💥
http://www.amazon.com/Imprints-Sand-Insights-Raja-Williams-ebook/dp/B017EG7TO2
(Visited 1 time, 1 visit today)